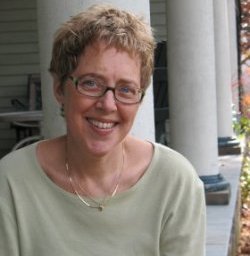 Perhaps as you're considering psychotherapy for yourself or for someone you love, it might help if I tell you a bit about myself. Many experiences have led me to my office at the Solar Hill Mansion.
I have maintained my psychotherapy practice in Brattleboro for over 20 years. My license is as a Clinical Mental Health Counselor (LCMHC), and I'm certified as a National Certified Counselor (NCC). I work with adults and teens, age16 and over, and I have a special interest in college students. I offer both individual psychotherapy and couples therapy. I accept many insurances, and a number of my clients self-pay.
Before beginning my private practice in 1985, I worked at, among other places, a psychiatric hospital, an inpatient drug/ alcohol treatment center, and at a college counseling center. Two settings stand out with regards to their deep impact on my work today.
Before I went to graduate school, I worked with gang kids in the streets of Philadelphia, through what then was called the Vista program. I went there to teach music. It was humbling to realize that music instruction was the last thing those kids needed from me. Thus began my foray into the world of counseling - a fine balance between listening, confrontation, and humor. It was a remarkable experience.
After getting my Masters degree in 1980, I worked to re-unite families which had been legally separated due to physical and sexual abuse or neglect of their children. In that setting, I was profoundly struck by the love that almost every one of these parents felt for their children, despite the severity of their abuse. To this day that experience informs my work with both my clients who've experienced serious childhood abuse, as well as the parents I work with who struggle with the challenging task of child-rearing.
Other experiences that inform my work are parenting high school foreign exchange students, and my commitment to a well-rounded approach to mind-body care, including several forms of so-called "alternative" health care methods such as homeopathy, acupuncture and the like. I also enjoy time spent in my garden, hiking, biking, landscape painting and yoga.